by Stanton Jones, Analyst, Emerging Technology
Amazon Drops Prices, Again
Earlier this month, Amazon dropped its Web Services pricing for the 19th time in six years. Amazon continues to use its massively scaled infrastructure to lower the per-unit costs of its compute, storage and network services, putting tremendous pressure on other public cloud providers, namely Microsoft and Google.
This round of price drops focused on the Amazon EC2 (Elastic Cloud Compute), RDS (Relationship Database Service), ElastiCache and Elastic Map Reduce services, with the biggest reduction in reserved virtual instances (vs. on-demand instances) — a price decrease of nearly 37 percent.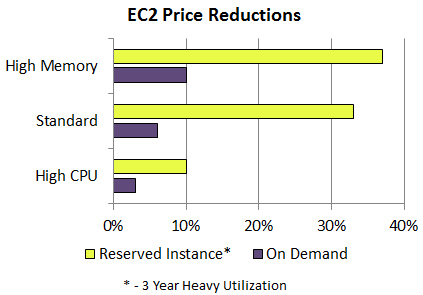 Image source: Amazon Web Services Blog
Amazon has a well-publicized history of price drops, and each time a reduction is announced, the message is loud and clear: The growth of our Amazon Web Services platform is creating massive economies of scale; those economies make it cheaper for us to run the infrastructure, and we're passing those savings on to you.
This is a powerful message to customers who are accustomed to price increases. It's also another salvo in the ongoing public cloud pricing-wars, a war that Amazon is currently leading and winning — by a wide margin. 
Razor-Thin Margins
Shortly after the Amazon announcement, both Google and Microsoft dropped prices for their public compute and storage offerings — Microsoft on its Azure Storage and Compute Services and Google on its Cloud Storage Service.
Although it's difficult to compare apples-to-apples the public cloud services that Amazon, Microsoft and Google offer, they do share some common traits: public, multitenant, self-service, massively-scaled infrastructure offered at a very low cost.
It's these features that allow the big three to offer these services at such a low price. How long they can withstand the razor-thin margin these services produce is yet to be determined. Clearly, these three vendors are going all out to today to grab as much market share as possible and are willing to sacrifice profits to get there. They know well that once their platform is embedded into an IT infrastructure it is extremely difficult to unseat, which translates into a longer-term revenue stream from that customer.
It's a Matter of When, Not if, Enterprise IT Vendors Feel the Pinch
These public cloud price-wars lead to an interesting question for today's outsourcing customer: Can I expect this kind of pricing from my vendor when I'm looking to incorporate Infrastructure-as-a-Service (IaaS) and or Platform-as-a-Service (PaaS) into my environment?
It depends.
If you're looking for a "like" service from your vendor (public, multitenant, self-service), then the answer is yes — eventually. The traditional, large IT vendors know that in order to enter this space their prices will need to be at least comparable. However, for most global companies, it's still a waiting game, because these vendors have yet to deploy their public IaaS platforms at anywhere near the maturity of Amazon. The emerging providers have mature platforms that are within range of Amazon but don't have the geographic reach or scale to support these very large customers.
On the other hand, if you're looking for an Amazon-like service, but with enterprise-level service level agreements at the same price, then the answer is a definitive "no." Remember, the way Amazon is able to deliver this massive level of compute and storage is by leveraging a highly standardized infrastructure while putting the onus for performance and availability on the developer. Don't expect to replicate your existing vendor agreement service levels in an IaaS agreement without a significant increase in your per-unit costs.